Seeded Fruit and Nut Biscotti (Gluten Free, Sugar and Dairy free treat)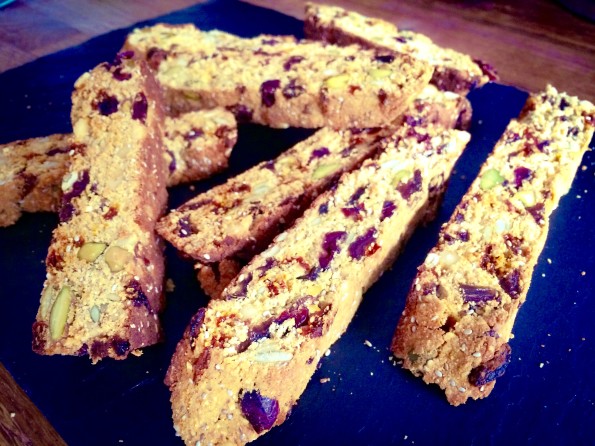 As Great British Bake Off biscuit week is drawing to an end, you were able to see and get ideas for all sorts of flavours biscuits and biscotti.  However, me being me I try to bring something a bit different to the table and thought that those whom are gluten-intolerant are often left out in these marvellous recipes.  So what did I do?…I sat down and I developed a recipe for those of you who are normally 'left out' – the Italians will most probably go in uproar and say 'Dis is nota my Nonna's Biscottiiiiii!', but trust me when I say that you should try them, they will rock your socks off, it is absolutely divine, light, flavoursome and ever so moreish!  Best of all it is gluten-free, dairy free and from refined sugar as an added bonus it is very low in fat!
So there you go, go get your ingredients, and crack on baking 🙂
INGREDIENTS
110g almond flour
100g coconut flour
20g oat flour
2 tspn baking powder
85g goji berries
85g dried dates
85g died cranberries
90g raisins
60g pumpkin seeds
120g pistachio nuts
60g pine nuts
35g chia seeds
40g Milled linseed with sesame and fruit mix
3 large eggs + 1 egg white for eggwash
120ml extra virgin olive oil
100g agave syrup
~~~~~~~
METHOD:
Preheat oven to 175'C, line large baking tray with parchment paper and set aside.
In the dry prying pan toast weighed pumpkin seeds, pine and pistachio nuts.
In the food processor, blend together dates, eggs, agave syrup and olive oil until you get combined loose liquid mix.
In the separate large bowl combine together all the flours with baking powder. Mix all through with a wooden spoon. Then add the egg mixture from the food processor and combine well with a wooden spoon. Then add all the nuts and seeds and mix again.. I tend to get stuck in with my hands, as the dough I rather manageable and it is easier to handle with your hands.
Tip all out on the work surface, separate in half, form two around 30cm length and 10cm or so width logs, press them down with the palm of your hand so all is even.
Egg wash the tops and pop in the oven on the middle shelf for about 20-25 min until nicely golden.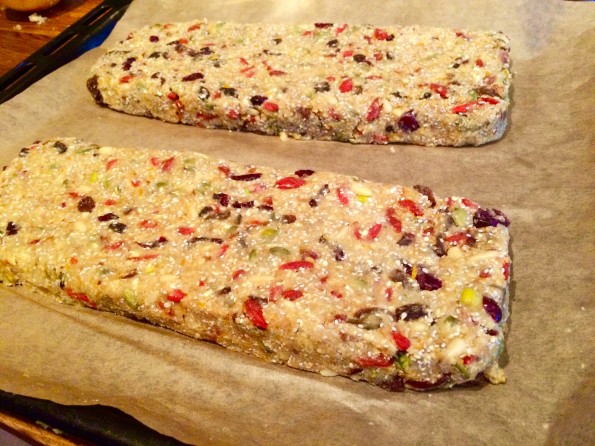 Remove from the oven and reduce the heat to 150'C to get ready for a second bake.
When biscotti logs were resting for 10 minutes in the tray, gently transfer them on the wire rack and let it cool for another 45minutes- an hour. As they are not so brittle when completely cold and easier to cut in to biscuits.
Place the logs on to the chopping board, cut them with a very sharp knife little bit sideways in to little 1/2inch biscuits, place back on to the same lined baking tray on their sides and bake second time for about 15 minutes.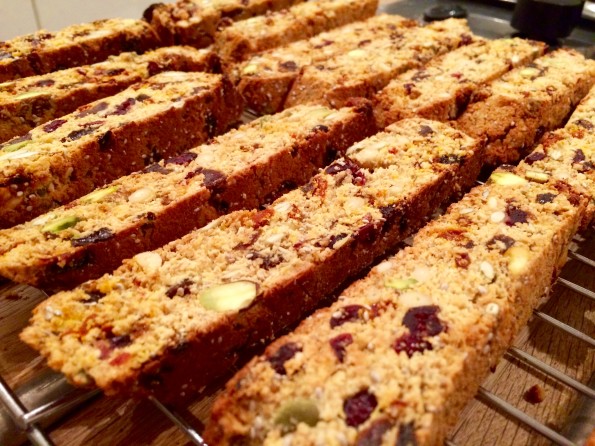 Take them out of the oven, adjust the temperature to 80'C FAN.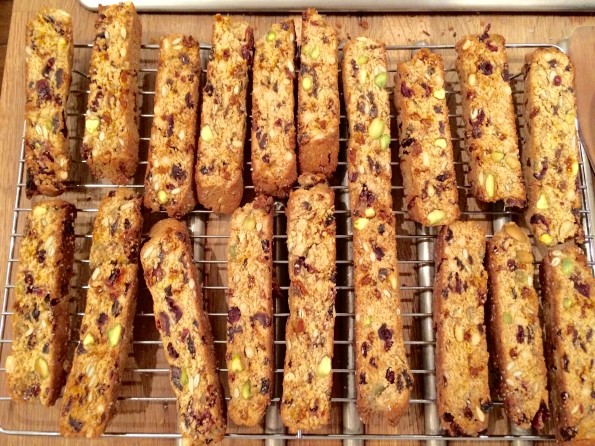 Gently transfer the cookies on to oven wire rack, and place them back in the oven for another hour or two with the oven door slightly left open to dry them out and make beautifully crunchy.
Enjoy with your morning coffee or afternoon green tea ^_^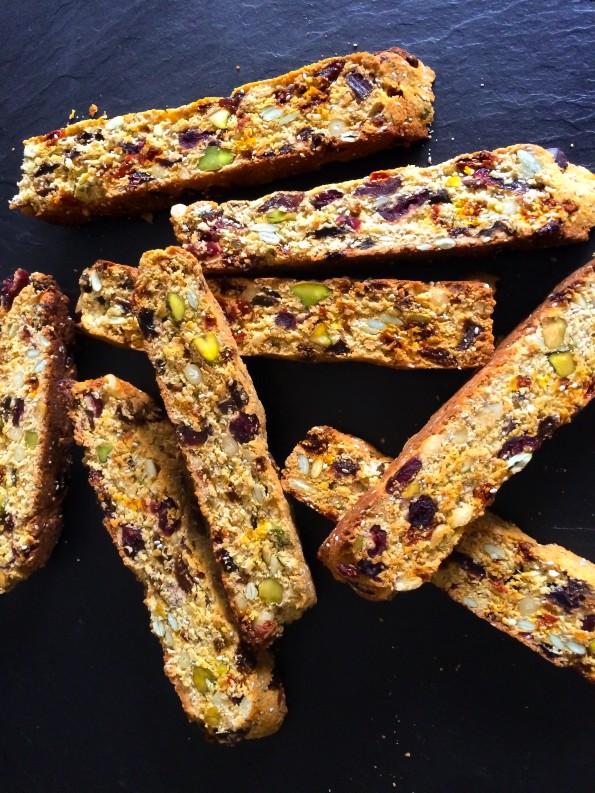 0
0
4
Please share