Granola bars
(Vegan, Sugar free, Gluten free and packed with nut protein)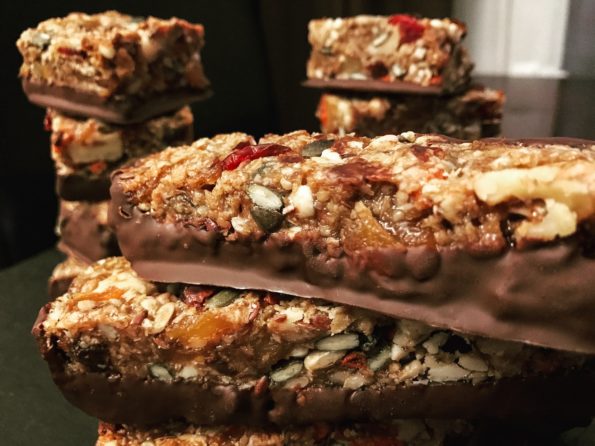 We all love good old wholesome snack. Whether that be breakfast, lunch or afternoon with nice cup of tea or coffee. And we love it even more, when we indulge in to something home made, tasty and packed with nutrients. These plant based, beautifully sweet and moreish nutty granola bars will tick all the boxes when it comes to snacking.
I made my bars vegan, but you are more than welcome to use honey for non vegan option. And please do experiment with different nuts and berries or fruit to achieve different flavours. You can opt out from orange zest and cinnamon if don't have it handy or don't like it, they will taste as good, trust me.
For these bars i melted vegan chocolate, but again, please be my guest and melt dark, milk or white- which ever you have in the cupboard. Or… just leave them plain 🙂
~~~~~~
INGREDIENTS
Dry ingredients
190g gluten fee or regular oats
100g sultanas
70g pecans or hazelnuts, roughly chopped
40g walnuts, chopped
40g pumpkin seeds
2tbsp Chia seeds
40g shredded coconut (I used coconut merchant)
100g dried cranberries
90g chopped almonds
100g dried apricots, chopped
60g goji berries
Zest of an orange (optional but advisable for flavour)
and pinch of sea salt and teaspoon of cinnamon
Wet ingredients
75g coconut syrup, I used Coconut merchant
120g Meridian Maple syrup
120g Meridian natural Almond butter, you can use any nut butter from their awesome range.
80g Sukrin gold 
50g Coconut merchant coconut oil
METHOD
Preheat the oven to 180'C and line square 20×20 tin with parchment paper. You can use large Bread tin too, as it will be easier to slice in bars.
Now, grab large bowl and add all dry ingredients. Toss them
around  to mix well. (Just want to say- variety of nuts and seeds doesn't have to be exactly same as mine, you can substitute with different kinds if haven't got certain available.  And I do highly recommend in using only natural and without any additives nut butter. There fore Meridian wide range of products come on handy 😉
In other medium bowl place all wet ingredients and warm them
In microwave or a pot on small heat until melted. (Again, for non vegan option, you can replace coconut syrup to Meridian Honey, as those two products act like a gluing agent)
Now pour the wet warm liquid over dry ingredients, take wooden spoon and give it a good stir until all is well coated and combined.
Now transfer the mix in the tin and press well all over.
Bake for 25-30Min until golden brown.
Remove from the oven and let it cool completely in the tin
When ready to slice, melt some chocolate of your choice (this is optional, as they taste same fabulous and undipped)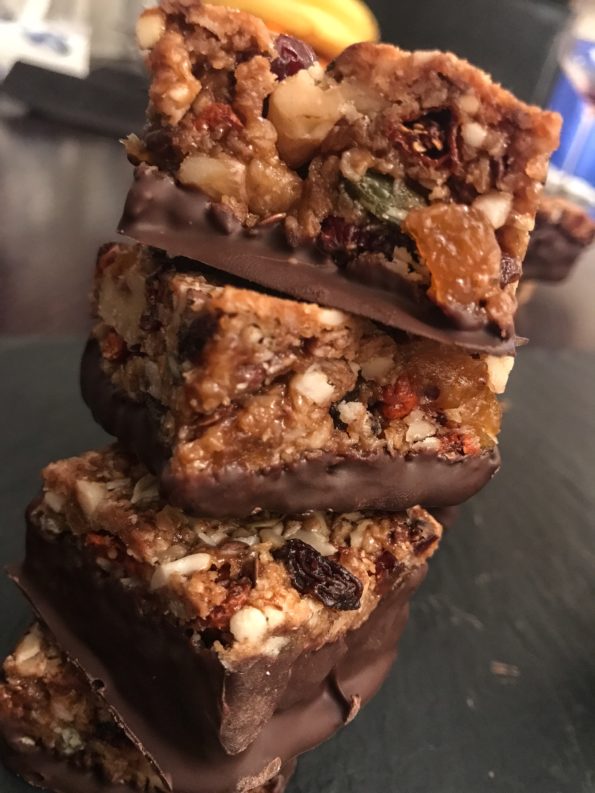 To cut the bars use cerated bread knife, cut in to required size bars, dip in the chocolate and let it set in the fridge.
Keeps well in air tight container for a week or so ( if you last this long that is hehe)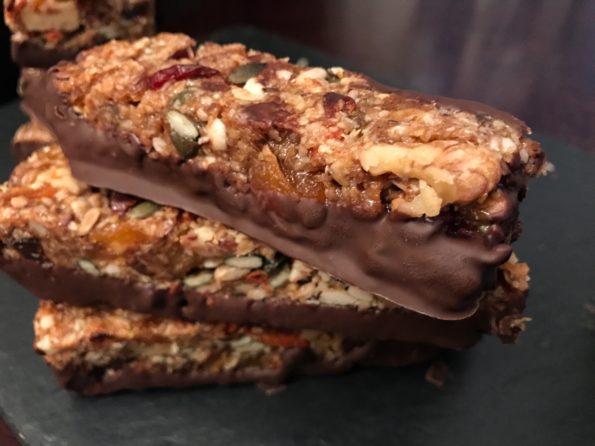 Enjoy!